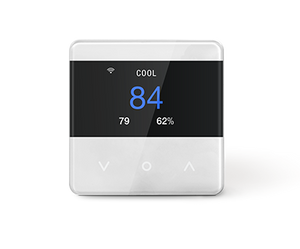 Product Details:

Heat Pump /Regular AC Thermostat
MCO Home MH-3928 thermostat is used to control up to 3 stages heating and 2 stages cooling system with 8 types of control systems, EM heat activation, adjustable compressor delay time, and O/B changeover. Tempered touch capacitive button, quick connecting terminals to save installer's time. Support S2 function.Maximum transmitting power: +3dBm Overcurrent protection: Required external 10A circuit breaker-Wave frequency: 908.4MHz(US), 
Specifications:
   Power supply: AC24V                                       
   Resistive load:<1A
   Self-consumption: <2w                                     
   Thermistor: NTC thermistor
   Temp. Setting range:5~37℃ (41~98℉)            
   Precision:0.1℃(1℉)           
   Outcase:Tempered glass + PC                        
   Dimension:104*104*20mm
   Installation:60.3mm hole pitch                           
   Active element: Relay switch 
Feature:
Application range: gas/fuel boiler, electric heating, water heating, heat pump etc. 8 types control systems.
Touch button operation interaction.
A simpler way to connect wires without screwdriver.
Resources:
Download the manual for MH-F500 here.